Melamine advantages in meltblown nonwovens
Thursday, 25 May 2017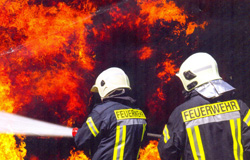 A new meltblown nonwoven made of pure melamine – one of the best priced acoustic and thermal insulating materials for high-temperature applications – was introduced by smartpolymer GmbH, based in Rudolstadt, Germany, at this year's Techtextil show in Frankfurt.

Read More >>
Sustainable Nonwovens: Henkel recently partnered with machinery manufacturer A.Celli Nonwovens to share knowledge and technical services with hygiene industry customers. How does the cooperation benefit the end product?
NEW ISSUE
Apr/May 2017
Global gathering
Index 17 sets new records
Electrospinning advancements
Production progress for nanofibres
Melt to nonwoven
Spunmelt benefits filter media

Spun solutions
New developments in fibre spinning
News, comment, analysis
The latest news from across the nonwovens industry
And much more...

SUBSCRIBE TODAY.
Go Wipes call for papers

Wednesday, 24 May 2017

Organisers of the Global Outlook for Wipes (Go Wipes) conference have issued a call for papers for presentations at this year's edition, which is set to take place on 16-17 November in Frankfurt,...

New Lenzing fibres at Planet Textiles

Wednesday, 24 May 2017

BANGALORE – This autumn, Austrian speciality fibre maker Lenzing will launch a new brand of viscose fibres which it claims will set a "new industry-wide benchmark in the sustainability of viscose...


Read More >>

Read More >>

MORE NEWS
SNW meets Autoneum

Thursday, 04 May 2017

Sustainable Nonwovens meets Dr James Taylor, research and technology manager for interior floor, Autoneum.

Completing the circuit

Thursday, 13 April 2017

Three German companies have joined forces to work on a project aimed at the development of nonwoven-based printed circuit boards and actuators that are fire resistant, flexible and possess suitable...


Read More >>

Read More >>
Responding to change

Thursday, 13 April 2017

How traditional German textile manufacturer Tenowo transformed itself into a 21st Century leader in engineered nonwovens and technical textiles. Adrian Wilson reports.

SNW meets Henkel

Thursday, 13 April 2017

Sustainable Nonwovens: Henkel recently partnered with machinery manufacturer A.Celli Nonwovens to share knowledge and technical services with hygiene industry customers. How does the...


Read More >>

Read More >>